GREAT NEWS -- IT WAS A SUCCESSFUL MERGER

No - we're not talking about Ben and Jen -- this merger is REALLY significant.

We have now successfully merged the reference side of LearnAboutMoviePosters with the new LAMP Movie Poster Data Base (MPDB). You will notice that the "green" border is now gone and the new "theatre curtain Maroon" is now the site's official color scheme. With this merger, LearnAbout has now gone from approximately 6000 pages to 100,000 *-pages -- and will continue to grow.

We have received great feedback on the new "Maroon" layout. We will be reformatting all of the articles in the reference site to fit this new scheme. This will take time, however, so please be patient. Remember, we have over 6000 pages to convert. This doesn't include new articles that we will also be adding.

You will also notice that the new format incorporates the sponsor ads. Remember, it is through the generosity of these businesses that we can continue to bring you this site FREE.
_________________
PARDON US, BUT
WE'RE BEING GOOGLED!!!!
We successfully merged the two sites this past Thursday. On Friday, we noticed a drastic increase in Google bots searching our site. In fact, at one point, on Friday, we had 28 bots on the site.

What do these bots (or crawlers) do? They determine which websites to list when requests are made to the Google Search Engine. The more bots searching our site, the more times LearnAbout will appear in a list of sites to visit when search requests are made to Google.

In layman terms, this means that our site has caught the attention of the largest search engine on the internet and will bring even more visitors to our site.

____________________________
Over the next few months, our visitors will see a number of changes -- including a reworking of our original reference site to the new "Maroon" layout. In addition, we will be adding a brand new feature -- Coming Attractions.

Want to see the newest of the new movie posters that are on the market? Come to our site. We will be featuring links on our Home Page and our Data Base Entry Page which will list movies titles as they are released to the theatres. For example, what films are being released the first week of October, the second week of October, etc. We will also be adding new images to the Data Base, including posters for films set to be released in 2004. This will also let you know which dealers will be handling the posters.

Our intent is to have images posted in our site from the inception of the movie industry through the future.

________________________
LEGENDS
In this month's "Legends" feature, we will be focusing on two names that have been in the news quite frequently lately -- Actor-turned-politician Arnold Schwarzenegger, and the legendary super hero Batman.

Arnold Schwarzenegger - A true-to-life example of what America has to offer to anyone with a dream -- This Austrian native came to the United States with a mere $20.00 in his pocket and shortly became one of the most popular movie actors in the world. Read about his life and check out his filmography.

And later this month...

Batman - With news that Christian Bale will be the new Batman, we thought it would be fitting to showcase this great character through the years.

Our October focus will be on the legendary actor John "The Duke" Wayne and, in the true spirit of Halloween, a look at our favorite blood sucker Dracula.

================================
2004 Movie and Entertainment Industry Calendars
As hard as it is to believe, we are fast approaching the end of the year 2003 -- with 2004 looming on the horizon. NOW IS THE TIME to start planning ahead to the New Year -- and one of these New Year's resolutions should be to get your schedule in order. We have searched the world to find the "best of the best" movie and entertainment calendars to offer to you. Check these out:

These calendars feature a great selection of movie posters, classic movie posters, film noir movie posters, film titles, film stars and classic television shows and TV stars.

These calendars make great Christmas presents for any film or television buff.

_______________________
CHECK OUT OUR INVENTORY
SALE AT SUSIE'S CORNER
Be sure to check out our inventory liquidation sale in Susie's Corner. We will be adding new items weekly. Many of you may have noticed that some of the package deals go quick -- so be sure to act when you see something you like.
GRAND OPENING OF UNSHREDDED NOSTALGIA
Jim Episale of Unshredded Nostalgia is holding a Grand Opening of his "bigger and better" store and poster gallery on Friday and Saturday, September 19-20, 2003 from 5:00 p.m.to 7:00 p.m. If you are in the Barnegat, New Jersey area, be sure to visit Jim at his location on 323 S. Main St. Route 9. Bring the coupon below for a 25% discount on any purchases.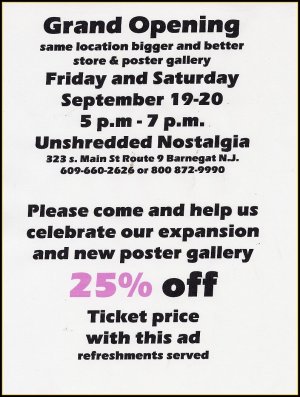 ________________________
Aren't You Tired?
(Editorial by Ed Poole)
It seems like every day we hear a new horror story about the online auctions. Just this morning (9/16) we received this:

I received today a spoofed message from aw-confirm@ebay.com called "SECURITY CHECK" do not respond to this message even though it has all the right logos and the "TRUST" seal at the bottom. Ebay has already reported back to me that it is NOT FROM EBAY. It asks for your user id and password with a screen identical to the one used by ebay when taking a bid. ONCE AGAIN ... don't respond....the message if not real......if you did take quick action to change your password.

If it's not someone trying to steal your password, it's someone trying to pass a reprint for an original, or someone in another country that will never ever ever send your poster once you've sent the money.
It's bad enough trying to figure out the feedback and if it's legitimate or nor, or fighting the shill bidding, or the little glasses (wondering why they had to change their name). It reminds me of the little mouse at the edge of the hole... he can see the cheese and wants it so bad, BUT what danger awaits when he goes after it!



I think the most heart-breaking things are the emails that we get telling us about the wonderful deal that someone got on this classic poster! They only paid $300 or $400 for this original Gone With the Wind or Wizard of Oz...... and then their next question is... what does Portal mean? Try explaining THAT to a new collector.



Yes, there are a few excellent dealers on the auctions.... BUT for every good one .. there are dozens that have NO CLUE.. And THEN you have SEVERAL intentionally trying to get your money.. (Sort of like swimming in a school of Sharks while looking for a pearl)
There are several different things that will help..



1) You have several professional on-line auctioneers that you can trust .. like Bruce Hershenson.. Rotman Auction .. Terry and Mark Mundun etc.



2) There are some excellent dealers... for the BEST of the BEST.. look over our APPROVED DEALER LIST...Soon we will have our LAMP Approved Logo to help you identify these fine reputable dealers better... All the others.... take a lot closer look!!



3) Come take our TEST!! We have a 20 question test taken from online auction descriptions... IF YOU FAIL IT..... DON'T BUY FROM ONLINE AUCTIONS until you learn a lot more.... We have over 6000 pages of FREE reference for you to study.


4) Only use money that you don't need!! then if you throw it away ... it doesn't matter!!
5) The best solution of them ALL.... Start using our new Movie Poster Data Base (MPDB). We turned it on Thursday.... and it's running GREAT!

Here's why you should use it..



A) It's completely cross-referenced. If you don't understand what a Foglio is or the NSS numbers ... you can look it up right there!


B) You get to see other posters on that title.... we're loading posters from all over the world... so you get to see the difference between the Japanese Dr. No or the German one..


C) You can search by a wide variety of ways.. for example: if you collect Window Cards or British Quads.... you can select just those to look at.


D) THE BEST DEALERS IN THE WORLD .. You only deal with the best of the best from all over the world... You can read about them to see who you're dealing with (NOT just a number or phony name). These GREAT dealers sign a NON Misrepresentation Agreement.. to present you the most accurate description possible AND THEY KNOW WHAT THEIR TALKING ABOUT.... You KNOW you will get what you pay for!


E) The selection is GROWING DAILY... As of today.. we have 4700 photos with 1700 posters for sale.... This is growing rapidly so over the next couple of months we will have the LARGEST SELECTION IN THE WORLD!! with 10s of 1000s of posters for sale.... and not just the most popular.... we're also loading the obscure and hard to find.


No more scams, shill bidding, checking feedback, questioning authenticity, trying to figure out who you're dealing with, and then worrying if you will get your item.........


WHAT ARE YOU WAITING FOR????


Here's the link to our MPDB Entrance Page...

let me know what you think