The internet is opening up access to posters from a wider variety of countries. Collectors are finally getting to see some of the fantastic artwork and diversity of posters that have been issued over the years but have gone unseen until now. The problem is that it has also opened up more possibilities of mistakes and problems. NO ONE wants buy a poster and later find out it's NOT what you were thought it was. While you may be very familiar with the posters from your own country, our LAIMP book gives you basic and intermediate information so you can become more familiar with the details and wider variety of markings from most developed countries. Of course, more emphasis is placed on the larger countries with more detail to ratings and censorship.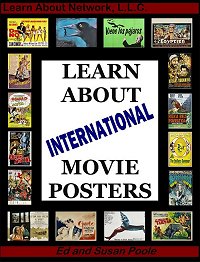 LAMP's Learn About International Movie Posters presents a closer look at the film industry in major countries around the world from the viewpoint of the poster collector.
Here is a some of the information covered:
*How and when the film industry was introduced in each country.
*Overview of the film industry in that country.
*Film Firsts in each country
*Poster sizes and types issued for each country
*Analysis of Censorship for each country
*Articles covering topics like:
*Poster markings to look for
*Ratings codes from various countries
*Study of Belgian tax stamps to help date originals from rereleases
*French printers logs with addresses to help date originals from rereleases

*Visa de Censor logs for France to help date originals from rereleases

*Eiren marks to help date Japanese posters

*Identifying Czech posters from Sloviak posters

*German FSK stamps for identification

*Dutch Censor Stamps
And much much more. This book is CRAMMED with information that will help each and every dealer and collector no matter WHAT level you are at.
Here is a look at the Index
PRICE: $44.95 plus $5 shipping in the US
NOW AVAILABLE
LAMP Members and Sponsors, please go to YOUR order page