IMPORTANT ANNOUNCEMENT
Most collectors began by collecting material from THEIR country. Most dealers handled material from THEIR country. You have extremely knowledgable dealers and collectors in most major countries in the world.
THEN THE INTERNET CAME ALONG
HOW WONDERFUL!!!! WITH AN UNLIMITED VARIETY OF UNBELIEVABLE PIECES!!! ... BUT.. With this unbelievable variety of posters and artwork... also came an unbelievable variety of problems.
Why are British combo posters viewed differently from US combo posters?
Why are British 3 sheets called 6 sheets in the pressbooks?
What are trade ads and why are they accepted?
Why are there large amounts of Swedish posters from the 1930s but not 60s and 70s
What are FSK marks?
Why are French Visa de Censure numbers important?
Why are French printers addresses important?
How do you tell the difference between Slovak and Czech posters?
Can Belgian tax stamps help you date the poster?
What is the controversy over Yugoslavian posters?
How do you read Japanese Erin marks?
How is the Indian film system broken down and why is it so large?
How do you tell Mexican reissues?
How do you tell Egyptian reissues?
The most knowledgable dealer in HIS OWN COUNTRY may NOT know the intricacies of other countries. And in THIS hobby... a MISTAKE can COST YOU DEARLY!!
Finally Announcing..
..what could be the most important reference book to the hobby ever released.
LAMP Presents the VERY FIRST REFERENCE BOOK that covers information on 38 countries including film histories, poster histories, censorship, markings, poster sizes and oddities.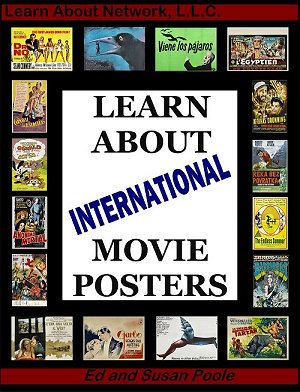 430 pages
540 illustrations
covering 38 countries
The new LAIMP book also includes numerous charts on areas such as:
Belgian Tax Stamps
Country Domain Extension Chart
Country Identifier Chart
French Printer Addresses
French Visa de Censure Numbers
International Paper Size Chart
Japanese Eiren Chart
UK Paper Chart
UK Terminology Chart
AND MUCH MUCH MORE
You can see the Table of Contents HERE
CAN YOU AFFORD NOT TO GET THIS BOOK?
Book Price is: $44.95 + $5 shipping in the US
LAMP Members - contact us to get your 25% OFF.
Dealers and collectors in the UK - please contact Terry at Quadbod - They are our official outlet in the UK
Dealers and collectors in Europe - please contact us, we are in the process of setting up outlets to save on shipping costs.
These LAMP Dealers are stocking LAMP books in the US
California

Texas

L'Imagerie Gallery
Owner - Debi Jacobson
10555 Victory Boulevard
North Hollywood, California 91606
Phone: (818) 762-8488
Email address: limagerie@earthlink.net
Movie Posters Inc.
Owner - Terry Tirado
P.O. Box 620
Mt. Vernon, Texas 75457
Phone: 903-588-2781
Email address: tmtirado@aol.com
Website: http://www.moviepostersinc.com
For questions - contact us or your LAMP Dealer.
NOW SHIPPING!!