Polish movie posters have some of the most creative artwork in the movie art industry. They older posters are primarily Polish artists that produce very unusual posters that make them quite popular.
However, a cheaper grade of paper was used making older Polish posters more delicate to handle.
Most Polish posters come in the following sizes:
16x22 - which varies in size.
23x33 - which was the primary size until around 1977 very similar the the German A1 poster.
26x39 - became the most common size from 1977 until recently
27x40 is the current size for the Polish One Sheet.
33x46 - the size of the rarer Polish 2 Sheet.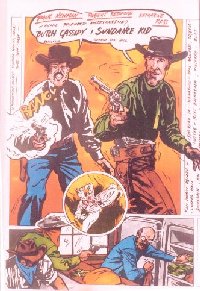 Quite often the original release poster is several years after the release in other countries. Many times the artwork is signed and dated making it easier to establish the release date.
Notice: the poster on the left from Butch Cassidy and the Sundance Kid. Luckily the title can be seen in English. Quite often this is not the case.