2004 End of the Year Report For
LearnAboutMoviePosters.com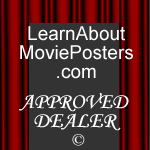 HAPPY HOLIDAYS!!
First... for those who haven't been with us during our growth, a brief look at our beginnings.
When we first looked at the internet in 2000, we searched to see what type of sites were available to benefit the hobby. After exhaustive searching, all we found were selling websites with some prices and a small amount of information for beginners...primarily about what the different sizes were .
When we decided to put up the website, we had envisioned a huge site that would get into every facet of collecting movie posters and provide extensive research material for all levels of collectors -- a site that both collector and dealer could come and be able to use extensively.
We officially opened LAMP on Jan 15, 2001 as a small dot in the area of movie poster collecting on the internet. I looked at our bulletins from December of 2001 and how happy we were to have reached a size of 400 pages of information and were overjoyed to have almost 10,000 visitors a month.
During our 2nd year we expanded our articles into such areas as Artists and Studios. We started the impossible task of trying to track down ALL NSS numbers of the 44 years of NSS dominance. We tried to create a manual list of US movies, finally coming to the realization that we needed to create something a lot more massive to control such a huge amount of information. Also during the year, we were approached to release another book for a wider group of collectors. By the end of our second year, the site was almost 5000 pages of information and we almost quadrupled in traffic to close to 40,000 visitors a month.
During our 3rd year, we released our 2nd book (Learn About Movie Posters). We expanded our reference section to over 6500 pages. We introduced sections like: Minor Studios and Early Studios, Lithographers and International Artists. We opened the Movie Poster DataBase(MPDB) with 87,000 titles and 13,000 images. We introduced the concept of giving collectors where to obtain that poster with Reputable Dealers attaching their information to the MPDB and controlling their own inventory. We tracked approx. 1.2 million visitors for the year.
For this past year of 2004.....It has been an ANOTHER unbelievable expansion year...
to highlight some of the major accomplishments:
1. We expanded our reference section to over 7500 pages, added such articles as: Benton Card Co., Legends, Morgan Litho log and dozens of early and minor film companies in the History Section. We also expanded many articles such as: Framing, Black Cast and added hundreds of Artists and NSS numbers.
2. We introduced the concepts of LAMP Approved Online Auction Dealers, the LAMP Approved Logo and the Poster Restoration Certificate
3. We added almost 1500 titles to the Movie Poster DataBase AND added almost 20,000 images.
4. We introduced a variety of new additions to the MPDB which includes showing Directors, Production and Distribution Companies, reissue dates for the film, and aka breakdowns.
5. We created and divided off LAMP-InternationalMoviePosters.com for research on the 45 top poster producing countries around the world and created LAMP-MoviePosterDatabase.com
6. We created a network of Dealers Maps for each state in the US AND all 45 countries to show a wide variety of information for collectors.
We tracked approx. 1.6 million visitors to LAMP from over 100 different countries..
We covered most of our projections from the previous year and sponsored 2 sites: Movie Poster Bid and Movie Poster Talk.
WHEW!!! (not too bad for 2 old fogies!!)
OK ... Now for some of the other side...and a look at What's Coming!
All of this sounds wonderful to us.... BUT there's a little darker side....
We also were hit by a worm in December that did a TREMENDOUS amount of damage, losing over 150 articles as well as destroying our backup. We have put up some older versions of articles and still have hundreds of dead links. We're going to have to spend a LOT of additional hours trying to rewrite and reconstruct and update all of those areas. The majority of the remaining damage is in the History Section.
The MoviePosterDataBase is working GREAT...... We have almost 32,000 images loaded (BUT we have over 300,000 READY TO LOAD) and over 10,000 posters listed for sale by reputable dealers. We plan to GREATLY expand this with a goal for the coming year to reach 60,000 images and 30,000 posters listed for sale.
WHERE TO WE GO FROM HERE....... WHAT'S COMING....
We have only scratched the surface of what SHOULD be available to both Dealers and Collectors.... We still look at what's on the internet and are VERY DISGRUNTLED... So here's what's in the works....
Dealers and Travel Maps:
We designed the maps to provide a wide range of information for collectors. Since we only put in the framework this past year, we plan to greatly expand the information. The maps will show location of LAMP Dealers and Suppliers, locations of posters on exhibit for travelers, Approved Framing locations (see framing below). We plan during the coming year to test some discount travel venues with the possibility of later offering discount travel for LAMP members.
Preservation:
Framing - of course our Framing Expert (Sue Heim) has already outlined a number of how-to's about framing... BUT she can't be everywhere!!. We still hear horror stories constantly....So.. We've been talking with a number of framing shops around the country and are trying to establish a group of framers that are knowledgable about framing movie posters and are working on a package for them so they can be recommended by LAMP to collectors in different states as a place that is safe to bring their poster to.
Restoration - We have a program for restorers to provide larger images that can be downloaded and printed for help when trying to restore and repair missing parts of a poster.We plan to create a Q&A section for each area of preservation to cover every phase with expert advise
History
Minor Studios - We will continue to track down and list every little studio and their contributions to our hobby with as much logo, release and ownership information as possible.
Major Studios - We are attaching each film release into the DataBase to fill in and recreate a record of EVERY release that the studio had and add changes in ownership and major events.
Poster Logo Log - This is already started but needs to be drastically expanded so you can follow each studio year by year through their Studio Logo on the poster.
Distributors - we are planning a section on Distributors and their release information.
Printers - we are planning a new section covering what we can find out on printers,
Release markings - We have a new section that's under development that lists and tracks the different 'Visions' and 'Scopes' that were used and marked on the posters.
We plan to expand the History Section into it's own website during the coming year which will also be fully integrated with the other LAMP sites.
Artists and Museums
Artist listings - Of course, we plan to continue the expansion of artist information in both the US artists and International artists, but we had to put in the International platform before we could work on bringing the Artist Section up to date. We plan to start updating and cross connecting all info into other sections and the MPDB.
Artist bios - We already have a few on the major artists but plan to GREATLY expand this area with direct links to individual artist websites when available.
Artist Showings - We are planning a separate section to highlight when and where artist exhibits are being shown with more direct contact with the artist. We have already talked to several artists that are wanting to participate in this section. We plan to cross connect this with the Dealers and Travel Map.
Museum Listings - We have a new section we're working on to show and highlight different museums that focus on movie posters and their artwork. We plan to give museum, exhibit and direct contact information. This will be cross connected with the Dealers and Travel Maps.
We plan to add a section of Animation Artists and their Studios.
Other Items - we are frequently asked about these areas.
Close Associated Items - The MPDB already has several hundred hard to find VHS Tapes available. We plan to GREATLY expand this area to add DVD, Soundtracks, Books etc.
Other Items - The MPDB was developed to handle ANY movie associated items as long as it has a movie title to attach to. Once the programs are put in place for DVDs and books, we will open this area. These are basically controlled by the dealer in the MPDB and is on slate probably for next year.
This year we plan to add an Article Archive to archive both our articles from Movie Collectors World, our previous newsletters AND any articles from offsite that might be important to collectors and dealers
Other MPDB Programs
Price Guide - we are not happy with the current pricing information on the market and think that dealers and collectors both need better and more accurate information. We had started placing some pricing information in the DataBase but are not happy with how slow imputting is. We are already in the process of a variety of information on pricing from several different directions. We will hopefully be able to start implementing these later in the year.
Rerelease Program - We have started a program that will reconstruct rerelease information on individual films. This should help in collector research of poster releases when cross referenced with the Studio logo, Studio history, Lithography and National Screen sections.
Expanded Dealer Control Sections - We didn't get a chance to implement this over the past year, so we hoping to implement an area to greatly expand this area with a lot more control and variables for listing in the MPDB.
Dealer and Collector Information Program - we have already developed a section of over 1000 dealers and collectors with contact and speciality information BUT because we manually developed the area, we stopped updating it until we can complete the automated cross-reference system with the MPDB so everything could be updated at the same time. We hope to have the new system online later this year.
Large Image Format - we have a program already in place for providing larger and better quality high resolution images. This was planned for use to restorers, for research and for magazine and book publishers. Most of the program is in place but it still needs minor programming to initiate.
Dealer Forum - We already have in place an IM program to connect dealers through instant messages. We will initiate and expand it very soon.
LAMP-InternationMoviePosters.com
The framework is already online with basic information on about half of the countries. We already have expanded articles on Australia, UK and Japan. We plan to finish the other countries on the basic information and put as much expanded in as possible
Dealers and Travel Maps are already in place. We plan to start putting exhibit, museum and other important collector information is during the year.
We plan to put in a History Section, LEGENDS, and advanced marking information on as many countries as possible during the year
The MPDB is already cross-linked with the countries and in the process of being fully integrated with LAMP-main.
Marketing.......
Online Marketing - we have several programs in process for this coming year.
Outside Marketing - we have started advertising in a couple of publications. This year we plan to increase our exposure through several new directions in print.
Physical Marketing - We will be introducing a couple of new programs for our Dealers and Sponsors to both expand our exposure and theirs as well. We will be announcing a couple of them soon.
Online linking - We haven't emphasized this area but we've noticed that quite a few of our Sponsors and Dealers don't even have links back to US..... We plan to start a more an aggressive program of links in every direction this year but trying to make sure that it's kept in associated areas (No linking to wedding stores and other such sites just to have a link)
We are planning to visit conventions and poster auctions this year....... One in particular is Cinevent... we hope to meet a lot of our fellow collectors there.
And then on our off time (when we have any!!)................... we do have a couple of books in the works and are trying to release at least one during the coming year.
For the past few years.. all we hear from collectors and dealers is how much is needed, how rotten it is to be forced to use eBay, how an alternative direction is needed, how nobody ever does anything, complaints about almost every aspect of the hobby........ but no changes?????
H-E-L-L-O!!!
WE'RE BUILDING THE ALTERNATIVE.
I hope this gives you an idea of how far we have come and how far we plan to go. We hope you will make a commitment to help us grow and expand into a central community for the benefit of the Movie Poster Collecting Dealers and Collectors.
We have committed to do everything that we can to preserve, archive, expand, teach, connect and enjoy all the aspects of movie poster collecting -- we hope you will help us achieve this goal.
Looking forward to the growth of the coming year,
ed
'A little BIGGER and a little BETTER each day - building a new direction... FOR ALL OF US'