Australia was introduced to Edisons peepshow Kinetoscope earlier, but projected film was first presented by Carl Hertz, who was an American magician that had been performing in London at the Egyptian Hall when he came in contact Robert Paul and his Theaterograph camera/projector. Hertz bought a camera and several films and learned how to use them. After

his engagement finished, on March 26, 1896, Hertz boarded a ship for South Africa, where he was most likely the first person to show films at sea.
On his arrival, Hertz gave his magic show and the first presentation of film on May 11, 1896 at the Empire Theatre of Varieties, in Johannesburg. Hertz visited various towns in South Africa and then went on to Australia. Hertz gave a presentation of the Theatrograph to a special invited audience at the Melbourne Opera House on 17 August 1896, and four days later, on the 22nd, gave the first public performance to a paying audience. After his engagement there, Hertz left for a tour of Asia. Hertz returned in July of the following year and in November. Shown on the right is a poster for the July event.
Henry Barnett, who was a photographer in Sydney teamed up with Lumiere representative Marius Sestier and held a private screening at Goodman's Lyceum Theatre in Sydney on September 17, 1896. Soon afterwards they opened the Salon Lumiere at 237 Pitt Street, Sydney where on October 27th, they premiered Passengers Alighting from Ferry 'Brighton' at Manly and a few other local films which are considered the first films produced in Australia.
For the next few months, numerous films were produced including films of the VRC Derby on October 30th and the Melbourne Cup on November 3, 1896. These and others soon appeared in the Lumiere catalog. Sestier parted with Barnett the first of 1897 and continued to tour Australia until May, when he returned to France. Sestier left behind several trained cameramen and his equipment and basically established the native Australian film industry. Barnett continued with the Salon Lumiere for a few months, then began filming a variety of Australian scenes and then moved his photography business to London the following year.
Other early Australians of note are:
Herbert Booth, who was the son of William Booth, the founder of the Salvation Army. In September, Booth arrived as the new head of the Australasia Salvation Army. One of the major aspects of Booths position was to give lectures and show programs that would benefit and raise money for the Salvation Army. Booth immediately recognized the potential use of film in his presentation (which had already incorporated the magic lantern).

By 1897, short films were apart of his lectures and by the following year, the Salvation Army had gone into film production. A glass-walled studio was constructed in Melbourne for the production of films and life-model slides, and remained Australias main studio until 1907. The first Army films were exhibited in February 1898. In July, 1898, Booth premiered his Social Salvation, which was a two and a half hour show, and after modification was comprised of 275 lantern slides and 25 one minute films that were part of his lecture. This was so successful that it was expanded and numerous plays and films were added. This continued until 1901, when Booth became very ill and eventually left for the United States.

Joseph Perry, who had joined the Salvation Army when he was 19, became their photographer in 1892. When films became available, it was Perry who was actually handling the production for the Salvation Army. Under Booth's direction Perry shot many actualities and Australia's first narrative films, including co-ordinating Booth's Social Salvation and the famous Soldiers of the Cross (1900). After Booth became ill and left Australia, Perry formed his own touring company, the First Biorama Company, and in 1902, amazingly produced a feature length documentary of over an hour on the history of Australia. Perry moved more to commercial filming and joined Co-operative Films. His 3 sons all had long careers in the Australian film industry.

Mark Blow, who owned a photography shop in Sydney. In August 1897, he began filming local events. Soon he was presenting programs of music and films under the name of Sydney Polytechnic which he operated until his establishment burned down in 1899.

Frederick Wills, joined the Australian Department of Agriculture as Official Artist and Photographer in 1897. Wills became excited over the camera and in 1899 received approval for a one year program trial.Wills produced over 30 films of different agricultural processes with the intention of attracting farmers to the colony. Unfortunately, the government wasn't as enthused and the program was cancelled. Wills shot a few other government films over the next couple of decades but nothing major.
The earliest film in the Australian film archive is a short film in 1900 showing Australian troops parading and loading on the ships to go to the Boer War. Shown on the left is a poster from 1900 advertising films from the Boer War. Australians enthusiastically embraced the new film industry, and within a few years, William Gibson, Millard Johnson, and John & Nevin Tait (Tait Brothers) combined Perry's multi-reel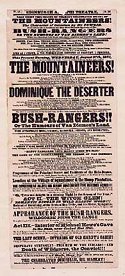 documentary knowledge with local bushranger legends and produced the world's first full length feature film, The Story of the Kelly Gang, 6 years before any other country was able to do so. This was considered similar to an Australian Robin Hood, that was a success in both Australian and British theaters. It was also the beginning of a genre known as 'bushranger' stories. While Australians took to bushranger stories, the censorship boards did not. South Australia banned bushranger films in 1911, and Victoria followed in 1912. The NSW police department banned the production of bushranger films in 1912. The legends of the Bushrangers were not anything new.. Shown on the right is a poster advertising the Bush Rangers by a touring vaudeville group in 1851. With this type of loyalty, the Kelly story outlasted the ban and has been refilmed a number of times since. Unfortunately, only a few minutes of footage from the original film have survived.
By 1912, Australia had produced 30 feature films, but for some reason, in 1913, all production, distribution and exhibition in Australia merged to form Australasian Films, called 'the combine'. Australasian abruptly stopped all feature length production and as the war broke out in Europe, initially there was a stimulation of the industry, but as the war continued, Australia moved to more inline with England. And after the war, the repercussions were then very similar, with the Australian film industry floundering.
During the 1920s, the industry took a sharp decline and U.S. and British production companies took over the Australian distribution and exhibition chains. American films dominated the screens and Australian features were often excluded from cinemas. The few standouts were 3 sequels to the Sentimental Bloke which ended in 1925 when Lotte Lyell died. Most of the major films were not that successful, even the attempt at a super-production, For the Term of His Natural Life.Australia had the distinction of being the world's leading importer of Hollywood films in 1922, 1926, 1927, and 1928. In 1927, 87% of the films shown in Australia were Hollywood made films, with 5% from England and 8% from other countries.
When British quotas were introduced, Australia, Canada, and New Zealand created a film buying group to counter the Hollywood domination. In 1927, the Australian Royal Commission was held and defined 'British' in such a way that Australian productions were included in the UK quota legislation, but it did little to stop the decline and by 1929, no productions at all were released.The Sound EraThe Jazz Singer premiered in Sydney on December 29, 1928.
By 1936, only 4 countries in the world were completely 'wired for sound'; the United States, the United Kingdom, Australia and New Zealand. As Australia had suffered in the 1920s for its alignment with the British film industry, this time it reversed and catapulted Australia to the forefront. It seemed that with the immediate availability of films (most countries had to worry about providing only films in their language) plus the legislation of the quotas still in place, Australia braced for an influx in film production. 'British-only' sound cinemas were opened in the early 1930s in Sydney and Malbourne. Australasia reorganized and called its distribution arm 'British Empire Films' to supply their theaters.
Cinesound was the most active of the Australian film studios in the early sound era. Cinesound was founded in 1932 as a subsidiary of the Greater Union Theaters to take advantage of the quota restrictions and provide the Greater Union theaters with local alternative programming. Stuart Doyle, who was the Managing Director of the Greater Union Theaters appointed his assistant, Ken Hall as the General Manager of Cinesound and head of production. Cinesound produced newsreels, documentary films and a popular series based on Steele Rudd's Dad and Dave characters. These were also moderately popular in the UK. Cinesound produced a total of 17 films with Ken Hall directing all but one of the films.
The only real local competition to Cinesound in the early sound era was Efftee, named after the initials of its founder Frank Thring. Thring wanted to take advantage of the quota legislation and be part of a local stablized film industry. Thring brought in RCA sound equipment and tried to focus on providing a full evenings program, consisting of a feature film and a couple of shorts, similar to the goal of Cinesound. His films were moderately successful with his single star, George Wallace. Unfortunately, in 1938 the quota legislation was repealed and he lost support and had to close down.
In 1940, as World War II escalated, Cinesound turned more to producing newsreels when the Australian government decided to channel news to the public through the 2 existing newsreel companies in Australia, Cinesound and (Fox) Movietone. In 1942 Cinesound was used by the US Signal Corps to prepare newsreels for the American troops in Asia. Cinesound also produced Australia's first Academy award for a war documentary short in 1943, titled 'Kokoda Front Line' shot by Damien Parer.
After the war, J. Arthur Rank bought the controlling interest in the Greater Union theaters as an outlet for his British films and discouraged local film production, eliminating film production of Cinesound. Charles Chauvel, who had been an independent film maker since 1926, actually became the dominant film maker after the war. Chauvel produced several films including Australias first color film, Jedda in 1955, using Aboriginal actors in lead roles.
From 1946 until 1969, Australian film production averaged just over 2 films per year, and none at all in 1948, 1963 and 1964. Australian films were basically films made in Australia by foreign production companies. In 1970, as the population in Australia approached 12 million, there were 998 theaters and 188 drive ins.
In 1973, the Australian film industry was finally rescued by the government funded creation of the Australian Film, Television and Radio School. Suddenly this program turned out a new generation of talent such as Gillian Armstrong, Peter Weir, Phil Noyce and Bruce Beresford and the launch of international careers for many screen actors including Judy Davis, Sam Neill and Mel Gibson.
Australia produced nearly 400 films between 1970 and 1985 - more than had been made in the history of the Australian film industry. At the end of the 1970s, analysis of why a majority of government funded Australian films were not box office successes but certain independent films like Mad Max were extremely successful, caused a change in the structure, called 10BA. This created financial funding instead of government supervision which allowed more creativity of the studios and a lot more stable film industry.
In 1988, the Film Finance Corporation was established to replace and expand the 10BA program which added more stability. Since then the Australian film industry has made monumental advances, climbing to a box office share of 8% in 2001.