WELCOME OUR NEWEST MPDB DEALER
We are very happy to announce the newest Dealer to join our Movie Poster Data Base.

Intemporal - Stanislaus Choko opened his Intemporel Gallery in 1982. He specializes in vintage movie posters. Intemporal has an extensive inventory of over 10 000 posters, and offers a large selection on
their web site. Please feel free to send Stanislaus your want list ! To visit his great site, click HERE.

~~~~~~~~~~~~~~~~~~~~~~~~~

WANTED --
REPUTABLE POSTER DEALERS

...to join the largest, most reputable and fastest growing poster website on the internet!! FOR A LIMITED TIME ONLY, we are offering a very special 7-4-3 DEALER PROGRAM for our Movie Poster Data Base.



If you are a reputable dealer and would like to list your posters for sale in our MPDB, check out this very special 7-4-3 DEALER PROGRAM.



LIMITED TIME ONLY -- ACT NOW.

Click

HERE

for details..



MOVIE POSTER PRICE RESULTS
(2004 Edition) - New Price Guide

Bruce Hershenson and Movie Collectors World are proud to announce the release of the Movie Poster Price Results, 2004 Edition, a new movie poster price guide. This 68- page magazine (like Movie Collectors World) is filled to the brim with actual sales prices.... NO dealers' offering prices! And the best thing....... Bruce is selling it for only $10 plus shipping!! This is a MUST HAVE for all collectors.

Click

here

to read the letter from Bruce with the details.
~~~~~~~~~~~~~~~~~~~~~~
International Movie Posters
Exhibit and Sale
February 21— April 23 2004
Opening reception 5-7 February 21
Jim Episale
Unshredded Nostalgia
323 South main St. Route 9
Barnegat, N.J. 08005
800-872-9990 609-597-0030
~~~~~~~~~~~~~~~~~~~~~
Amazing3rdPlanet.com
is introducing a brand new
revamped website with 1000's of posters available.....be sure to check it our at www.Amazing3rdPlanet.com

~~~~~~~~~~~~~~~~~~~~~~
JOIN US ON THE FORUM

Come talk movie posters with collectors from all around the world.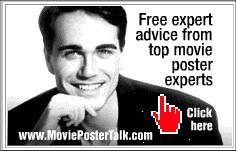 _______________________
CURRENT MOVIE POSTER DATA BASE STATICS



As many of you know, we went online with our Movie Poster Data Base in September of 2003. Although we did not reach our initial goals, we are happy with our progress. Here's a look at our current stats as of the date of this newsletter:



~~~~~~~~~~~~~~~~~~~~~~~~~~~
REVAMPING SUSIE'S CORNER

Be sure to check out the changes to our Susie's Corner. We plan to continue inventorying so we can clear some space. Click on the buttom below to go to the new inventory layout.

ADVERTISING
ON OUR WEBSITE
We tracked 1.2 million visitors last year -- want to let them know about your business? Click
here
for information on our Sponsorship Program.
HERITAGE TO OFFER OVER 450 LOTS OF RARE AND VINTAGE MOVIE POSTERS IN UPCOMING SIGNATURE SALE
Heritage Vintage Movie Poster Auctions of Heritage Comic Auctions (HCA) will hold its latest Signature Auction March 17, 2004 in their new offices in Dallas, Texas.

Featured in this sale of over 450 vintage posters is the very rare and original "Frankenstein" one sheet movie poster. This poster, only the fifth copy known to have survived, is a gorgeous "stone-lithograph" image and one of the most sought movie posters of any era." said Heritage's movie poster expert, Grey Smith.

Also offered will be original posters from such horror classics as "The Mummy" (1932), "Dracula" (1931), "Dracula's Daughter" (1936), "The Wolf Man" (1941), "White Zombie" (1932), "Old Dark House" (1932), "Ghost of Frankenstein" (1942), "Son of Kong" (1933), "Chandu,the Magician" (1932) up to "Rosemary's Baby" and "The Texas Chainsaw Massacre" (1974).

Included in the sale will be such rarities as posters from classics such as "Grand Hotel," "Dinner at Eight," Swing Time," "Tarzan the Ape Man", and "Lost Horizon." "This may be one of the best sales we have ever had due to the variety of the material offered," said HCA's Director of Auctions John Petty, "so many great titles represented from the silent era, the golden age of Hollywood, up through the fifties, sixties and seventies. Where else would you find a one sheet poster from Ernst Lubitsch's silent classic "So This is Paris" next to a beautiful, original Japanese poster from "Apocalypse Now"?"

If the more modern classics are your collecting passion, Heritage's March sale will include the rare 40" X 60" rolled posters from "Fistful of Dollars," "Dirty Harry," "Star Wars," "Jaws," and the classic "Foxy Brown."

Other highlights include a near mint set of the original "Oilette" posters from "Gone With The Wind", and a tremendous never-before-seen collection of original "Golden Age of Television" stills, contact sheets and press stills.

SIGNATURE SALE 601 HIGHLIGHTS



* Frankenstein Lot # 16175
* Swing Time Lot # 16007
* The Mummy Lot # 16147
* The Wolf Man Lot # 16199
* The Riveter Lot # 16259
* Red Dust Lot # 16348

For more information about Heritage's auctions, and a complete record of prices realized, along with full-color, enlargeable photos of each lot, please visit

www.HeritageMoviePosters.com

.
HIGHLIGHTS OF THE
CHRISTIES' AUCTION
A vintage movie poster auction was held on March 9, 2004 by Christie's in London. According to their website, $214,359 was sold at the auction.

Fellow movie poster collector Vince of the UK attended the auction and recently posted his report on the Movie Talk Forum. Here are some of the highlights of his post. All prices are Pounds Sterling - if you multiply these amounts by 2.3 you'll get a rough idea of the cost in dollars including premiums.

It was a very packed auction room (150 people?), with the usual suspects in attendance.

The Outlaw re-release quad, in need of some love and attention, went for a very respectable £2400. The Soubie Veronica Lake personality poster went for £550, and was worth every penny - it was stunning and in excellent condition. The US noir section fetched average prices. The insert for Deadly is the Female (the former title of Gun Crazy) went for £380.


The Italian My Fair Lady by Nistri - the US one-sheet for the same film, with Peak art, fetched a whopping £800! The DS Breakfast at Tiffanys one-sheet went for a massive £11000 plus premiums to a telephone bidder - estimated that to be around $25,000 at the current exchange rate and including premiums!!


Various lots of UK quads went for high money, Caine and Bond doing extremely well. The US one-sheet for the Italian Job sold for £1200, over double its high estimate. The Batman quad fetched a more-than-healthy £1300. As for the Bond quads, the Dr. No brought £2600, From Russia With Love £3200. The rare and eclectic Thunderball advance fetched £2200. Finally, the bright "Bridge on the River Kwai" sold for £1700. The Grinsson "Dr No", despite looking in need of some care, still sold for £700.


Italian posters did only fair trade, the spectacular Dial M for Murder fetching the best price of £850.

The Japanese poster for the 1933 The Ghoul sold for £1400. Finally, the Black Narcissus double-crown eventually sold for £400.

Thanks to Vince for his informative report.

~~~~~~~~~~~~~~~~~~~~~