WELCOME TO OUR
NEWEST SPONSORS
We are very happy to announce two new ad sponsors of our site.

CineMasterpieces - David Lieberman has been buying and selling posters for over 22 years- first as an obsessive collector and now as a dealer. His passion has led to the creation of his website: CineMasterpieces. There you will find original U.S. Theatrical Movie Poster; Genuine Foreign and European Movie Posters; Authentic Rock Concert and Tour Posters; Original Advertise-ment Posters; Rare Vintage and Unusual Posters; Investment Grade Quality with No Reproductions of Any Kind. To visit his great site, click HERE.

Miscellaneous Man - Since 1970, George Theofiles has been offering ORIGINAL vintage posters and old advertising ephemera circa 1870's ~ 1960's. George carries absolutely no reproductions. George specializes in military movie and war posters. George is currently working on his website so you can visit his site to acquire his catalogs or contact him. We'll have a selection of his posters on LAMP soon. To visit his site, click HERE.

~~~~~~~~~~~~~~~~~~~~~~~~~

WELCOME OUR NEW DEALER

PosterWorld - Paul Hein's first encounter with movie posters as collectibles came in 1975 through a friend. He caught the collecting bug and became a collector/dealer in Atlanta, where Posterworld was born. Paul has since moved to New Jersey and has been operating Posterworld strictly as a mail order business offering all sizes of movie paper up to and including three sheets, primarily for films released during the period 1940-1975. Horror and Sci-Fi titles from the 1950's and 1960's are Posterworld specialties. Paul is adding his inventory to the Movie Poster Data Base. To learn more about Paul and his inventory, click on his Meet the Dealers page.

~~~~~~~~~~~~~~~~~~~~~~~~~

WANTED --
REPUTABLE POSTER DEALERS

...to join the largest, most reputable and fastest growing poster website on the internet!! FOR A LIMITED TIME ONLY, we are offering a very special 7-4-3 DEALER PROGRAM for our Movie Poster Data Base.

If you are a reputable dealer and would like to list your posters for sale in our MPDB, check out this very special 7-4-3 DEALER PROGRAM.

TIME IS RUNNING OUT -- ACT NOW.

Click

HERE

for details..

~~~~~~~~~~~~~~~~~~~~~~~~
BRUCE HERSHENSON'S
MAJOR JUNE AUCTION

Bruce's next major auction will consist of two parts. The first part will be an unbelievable collection of John Wayne one-sheets, supplemented by a pretty remarkable collection of glass slides from 1930s John Wayne movies, and also some 1930s John Wayne lobby cards This first section will go "live" on June 30th, and will run for 10 days and close on July 10. The second part of the auction will consist of a wide ranging assortment of posters and lobby cards from all sorts of desirable movies, covering all years and genres. This second section will go "live" on July 1st, and will run for 10 days and close on July 11.

THIS IS YOUR VERY FINAL CHANCE TO CONSIGN TO THIS MAJOR AUCTION.

For more information, visit Bruce's website.

~~~~~~~~~~~~~~~~~~~~~~

MOVIE POSTER PRICE RESULTS
(2004 Edition) - New Price Guide

Bruce Hershenson and Movie Collectors World are proud to announce the release of the Movie Poster Price Results, 2004 Edition, a new movie poster price guide. This 68- page magazine (like Movie Collectors World) is filled to the brim with actual sales prices.... NO dealers' offering prices! And the best thing....... Bruce is selling it for only $10 plus shipping!! This is a MUST HAVE for all collectors.

Click

here

to read the letter from Bruce with the details.
~~~~~~~~~~~~~~~~~~~~~~
JOIN US ON THE FORUM

Come talk movie posters with collectors from all around the world.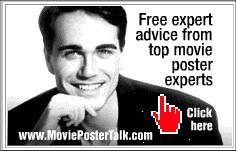 ~~~~~~~~~~~~~~~~~~~~~~~~~~~
ADVERTISING
ON OUR WEBSITE
We tracked 1.2 million visitors last year -- want to let them know about your business? Click
here
for information on our Sponsorship Program.
LAMP'S RECORD
BREAKING MONTH



LOOK at the records Learn About Movie Posters shattered this past month!

VISITORS - The month of March saw record breaking numbers of visitors to our website. Not only did we reach our highest week ever, each following week beat the prior week's record. Here are the numbers:

Week Ending March 6th - 22,997 (beating our previous record of 20,404 set last year)

Week Ending March 20th - 23,401

Week Ending March 27th - 24,669

Week Ending April 3rd - 27,961

NOTE: These figures only represent visitors to the reference section of the website; our stats program does not track visitors that go directly into the Movie Poster Data Base, so these figures do not include all visitors -- only the ones our stats package can track.

IMAGES - The Movie Poster Data Base now has over 20,000 images on line. This represents about 10% of the images we have, so we still have a long way to go.

POSTERS FOR SALE - Our great dealers have listed over 6,000 posters available for sale. This number increases daily and represents posters for ever genre and from most countries. Before you buy that poster, be sure to check to see if one of our dealers has it for sale.

~~~~~~~~~~~~~~~~~~~~~
COMING May 1st 2004 -
LearnAboutMilitaryPosters.com
In light of the current world events, over the past year, we noticed a significant number of visitors coming to our site through our sister site, LearnAboutWW2Posters.com. According to our stats program, it is regularly ranked in the top 20 areas visited. It is apparent that many movie poster collectors also collect other types of posters, and military collectors are looking at war movie posters.

In addition, we have several of our dealers that are carrying a variety of war movie posters and other war posters.

Due to numbers we could no longer ignore, and the benefits of cross product marketing, we have decided to divide this section off into its own website: LearnAboutMilitaryPosters.com.

This site will be dedicated to the posters issued during war time events: World War I, World War II, Korean War, Vietnam War, Desert Storm, Iraqi Freedom and others. In addition, we will be putting up a special section on movie posters that highlight each war period.

We will officially kick off the site May 1, 2004. There are several advertising spots available for any dealers who wish to sponsor this site. Dealers that carry war-related posters can contact us about participating in our site. For more information, visit the website or contact us via email.
~~~~~~~~~~~~~~~~~~~~~~

HERITAGE ANNOUNCES ITS MONTHLY POSTER AUCTION

Heritage Vintage Movie Posters announces the beginning of their monthly sale of movie posters. The first week of every month Heritage will be offering a selection of posters that will be sold with little to no reserve. This month they have some 95 lots all unreserved! Items include American, French, and Polish posters. For more information, visit their site at www.heritagemovieposters.com and click the browse link below Amazing Comic Auctions.
~~~~~~~~~~~~~~~~~~~~~~~~~
~~~~~~~~~~~~~~~~~~~~~~~

NEW LAMP ARTICLES

We have been updating articles in our reference section, including several in the international markets, early studios and NSS number log. You will be able to tell the new articles by their "maroon" backgrounds.