WELCOME TO OUR
NEW DEALER
We are very happy to announce the newest dealer to join our family.

Miss Peggy's French Posters - Peggy Afuta is a dealer in France who handles a wide variety of French posters, French lobby cards and photos. While she is specializing in posters highlighting French actresses such as Catherine Deneuve and Isabelle Huppert (who are the most "wanted" French actresses), and Fanny Ardant, Emmanuelle Beart, Virginie Ledoyen, Peggy offers a wide variety of posters.

Miss Peggy has been a seller on eBay since September of 1999, mainly on the US eBay but also on the French eBay, and has an excellent rating.

Peggy is currently adding her inventory to LAMP. To see her current listing, click here.

~~~~~~~~~~~~~~~~~~~~~~~~~

TIME IS RUNNING OUT ON OUR SPECIAL 7-4-3 DEALER PROGRAM

REMEMBER -- If you want to be a part of our dealer family AND you are a reputable dealer, be sure to take advantage of our special 7-4-3 DEALER PROGRAM.

THIS OPPORTUNITY ENDS MAY SO ACT TODAY!!!.

~~~~~~~~~~~~~~~~~~~~~~~~

TWO GREAT AUCTIONS COMING SOON

Two incredible auctions are coming soon to your home -- courtesy of Bruce Hershenson's emovieposter.com.

June 30th to July 10th - the greatest collection of John Wayne U.S. one-sheets ever assembled! Virtually EVERY one-sheet known to exist, including the original release and ALL known re-releases! The auction will also include some ultra-rare lobby cards and glass slides from many of Wayne's 1930s westerns. The full-color catalog will be a "must-have" for it will be the ultimate reference guide to John Wayne one-sheets.

July 1st to July 11th - Vintage Hollywood Posters VII. Another incredible offering of great movie posters and lobby cards, covering all decades and genres, from early silents to the present day! As always, the emphasis will be on rarity, desirability, and condition. If you collect ANY sort of movie paper, there are sure to be items for you! You see lots of ads for lots of "major" auctions in every issue of MCW.

Note: Bruce is not yet taking orders for the printed catalogs, but will start doing so very soon. Visit Bruce's site HERE for more information.

~~~~~~~~~~~~~~~~~~~~~~

CINEVENT 36 - 12th Annual Movie Poster Auction

Marty Davis and Morris Everett, Jr. will present the 12th Annual Vintage Poster Art Auction on Saturday, May 29, 2004. The auction is held at the Ramada Plaza Hotel in Columbus, Ohio with the Cinevent film convention. For more information about this great event, click HERE.
~~~~~~~~~~~~~~~~~~~~~~~~~~

MOVIE POSTER PRICE RESULTS
(2004 Edition) - New Price Guide

Bruce Hershenson and Movie Collectors World are proud to announce the release of the Movie Poster Price Results, 2004 Edition, a new movie poster price guide. This 68- page magazine (like Movie Collectors World) is filled to the brim with actual sales prices.... NO dealers' offering prices! And the best thing....... Bruce is selling it for only $10 plus shipping!! This is a MUST HAVE for all collectors.

Click

here

to read the letter from Bruce with the details.
~~~~~~~~~~~~~~~~~~~~~~
JOIN US ON THE FORUM

Come talk movie posters with collectors from all around the world.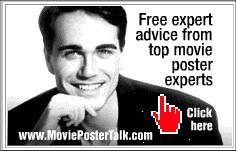 ~~~~~~~~~~~~~~~~~~~~~~~~~~~
ADVERTISING ON OUR WEBSITE
We tracked 1.2 million visitors last year -- want to let them know about your business? Click
here
for information on our Sponsorship Program.
FRAMING YOUR LARGE
MOVIE POSTERS
Many collectors shy away from large size movie posters because they are more difficult to preserve and display. But have no fear -- Sue Heim is here!

Frame expert, Sue Heim of Hollywood Poster Frames, has written a great article for LAMP entitled "TIPS FOR FRAMING: OVERSIZE POSTERS."

In addition, we have re-worked the entire framing article, Framing Movie Poster Collectibles.

Collectors should read these articles before taking their valuable collectible posters to be framed.
~~~~~~~~~~~~~~~~~~~~~
LAMP'S Poster Restoration Certificate

Have you ever bought a "restored" movie poster? Exactly what was done to it? Was paper replaced? Was it repainted? What chemicals were used to remove stains, marks, etc.? How was it linenbacked?

For years, we have advocated the need for some type of record reflecting renovations done to a particular poster. This record could then be transferred with the exchange of ownership of a poster.

Having a record of a poster's restoration can have many benefits. For example, certain chemicals do not mix and can have an adverse affect on a poster. This information is essential for subsequent repairs to a restored poster. The type and amount of restoration can affect the value of a poster. Poster buyers and sellers can use this information to more adequately evaluate the poster. This information is also helpful for financial records such as insurance.

We have designed a three page certificate that we are making available to collectors to use to record their poster restorations. Simply print out the form and send it to the poster restorer with the poster.

For the instructions and the forms, click HERE.
Unshredded Nostalgia Gallery to Display Rare Film Posters

Colorful antique movie posters that are sure to rekindle laughs and tears from days gone by will be exhibited to the public in the Gallery at Unshredded Nostalgia in Barnegat this spring and summer.

Beginning Saturday, May 22, from 10 a.m. to 7 p.m., noted area collector Jim Episale is again inviting the community to learn more about movie posters as collectibles during the latest of his free exhibitions. "This exhibit will be a special one, featuring Romance and Comedy posters from such classic films as "Gone With the Wind," "Blazing Saddles," and "Some Like It Hot," as well as memorable display art from several Charlie Chaplin movies, such as "The Kid" and "Gold Rush," Episale said.

Collectors, browsers and the general public are invited to view this entertaining and informative free exhibit located at Unshredded Nostalgia, 323 S. Main St. (Route 9) in Barnegat, NJ., on Saturday, May 22, from 10 a.m. to 7 p.m. A special public reception with refreshments will take place between 5 p.m. and 7 p.m. The exhibition will remain on display through August.

Click here to read the complete Press Release.

~~~~~~~~~~~~~~~~~~~~~~~
BEFORE YOU BUY THAT POSTER
LOOK FOR THIS LOGO
~~~~~~~~~~~~~~~
~~~~~~~~~~~~~~~~~~~~~~~

LearnAboutMilitaryPosters.com

Our new LearnAboutMilitaryPosters.com website is now online. We will be disconnecting the links to the "old" site over the next few weeks. Please be sure to update your links to this new address. There are several advertising spots available for any dealers who wish to sponsor this site. Dealers that carry war-related posters can contact us about participating in our site. For more information, visit the website or contact us via

email

.

~~~~~~~~~~~~~~~~~~~~~~
SUSIE'S CORNER UPDATE

We have begun to inventory one sheets, celebrity photographs, buttons and promo items.
~~~~~~~~~~~~~~~~~~

CURRENT MOVIE POSTER DATA BASE STATISTICS