NEW LAMP GENERIC SECTIONS TAKE OFF
Since we started our new "Generic" sections in our Movie Poster Data Base, we have added over 6,000 items. These include original movie posters (not yet archived), videos, DVD's, and novelty items.

For those of you who are not aware of these new sections (where HAVE you been?), let me explain.

When we created our Movie Poster Data Base, we allowed reputable LAMP Approved Dealers to list specific items for sale. The particular poster had to be archived before it could be listed for sale. Since archiving is a time-consuming task, we created several new "Generic" sections that allow LAMP dealers to list items they have for sale BEFORE they are archived. These generic sections include:

Studio Released Material Not Yet Archived

Commercial Posters Not Yet Archived

We also added sections where LAMP dealers could list movie-related items for sale. These include:

Electronics: Video, DVD, and Other

Associated Items: Clothing, Novelties, Toys

HOW TO USE THESE NEW SECTIONS

These new generic sections are in their own separate data base. THEREFORE -- the golden poster that is used in the Movie Poster Data Base DOES NOT APPLY for the new generic sections. So if you are looking to see what is for sale for a particular movie, scroll all the way down the page. If you see the by any of the generic sections, click on the generic image to see what is for sale. There you will see the description of the items and how to contact the dealer that has it for sale.

If anyone would like more information about how to shop in LAMP, please email me.

~~~~~~~~~~~~~~~~

WANT TO TALK
MOVIE POSTERS?

Another movie poster forum/bulletin board is now open and welcoming visitors. Not Suitable for General Exhibit was started by Aussie movie poster collectors Phil Edwards and Ari Richards. Click here to register.

~~~~~~~~~~~~~~~~
J.R. has announced some exciting new "bulk listing" tools for sellers on Movie Poster Bid.

PRELIMINARY AUCTION PAGE - This page allows a seller to complete their auction forms and store them until a later date before they become active. This gives the seller a chance to make any changes they wish and then choose when to activate the live auction. Dealers can create and store as many Preliminary Auctions on their "Preliminary Auctions" page as they wish.

OFF-LINE BULK-LISTING TOOL - This tool really is designed for those sellers who plan to list a whole lot of items and feel they really need something off-line to work with (including the ability to import and export their auction listings in the .csv format). This tool is currently being beta tested.

For more information on J.R.'s announcement, click HERE.
~~~~~~~~~~~~~~~

2005 SPRING POSTER HAPPENINGS
Check out these great auctions, shows and exhibits:

May 14 - Meet Steve and Chris of Original Poster at Westminster Collectors Film Convention: Central Hall, Westminster, London

05/27-30 - Cinevent 37 - Morris Everett and Marty Davis present their annual auction.

May 29/30 - Meet Terry and Sue of Quadbod at Antiques & Collectors Fair, Weston-Super-Mare at the Winter Gardens Pavilion-UK
When you're looking to buy a movie poster from an online auction, be sure to choose one of these great LAMP approved dealers. They are already linked to their individual auctions.
BEFORE YOU BUY THAT POSTER
LOOK FOR THIS LOGO
MOVIE POSTER SALES RESULTS
2005 Edition

This 2005 edition takes the mystery out of pricing movie posters, lobby cards and stills. This 68-page publication (published by eMoviePoster.com and Movie Collector's World) lists 20,000 VERIFIED sales results from eMoviePoster.com's 2004 auctions (EVERY item that sold for $22.49 or more). Also in convenient separate and easy to follow categorized sections, you will find all of the HIGHEST PRICED ITEMS THEY HAVE EVERY SOLD! EVERY result gives the condition of the item sold (vital information not found in any other database), and important extra info, like style type.

Best of all, this invaluable guide to actual sales results is priced at only TEN DOLLARS (plus postage). It is NOW SHIPPING and you can ORDER NOW to be among the first to receive a copy.

SPECIAL - ORDER BOTH THE 2004 EDITION AND 2005 EDITION FOR $15.00! ($3.99 via U.S. Priority Mail, $1.50 via U.S. Media Mail, Outside USA, please contact)

Bruce Hershenson - eMoviePoster.com
P. O. Box 874 - West Plains, MO 65775
Phone: 417-256-9616 - fax: 417-257-6948
email: mail@brucehershenson.com

~~~~~~~~~~~~~~

Heritage Vintage Movie Posters Announces the Beginning of Our Weekly Internet Movie Poster Auctions (IMPA)!

The response to the Heritage monthly Internet Poster auctions has been amazing! So amazing, in fact, that, beginning Sunday May 15, 2005, Heritage will begin posting 75-100 new items on their website each week with another 75-100 closing the following Sunday. Every week, 75-100 lots will close and another group will be posted to end thirty days later. With the incredible increase in quality consignments that they've experienced lately, they are excited to be able to get this great material out to their customers with increased frequency. Now each week, new material will be visible on their site, and you'll have three more opportunities each month to add some great movie material to your collection!

For more information, click HERE.
~~~~~~~~~~~~~~~~~


Channing Lyle Thomson has just announced a major update and redesign on his website, channingposters.com. Be sure to check out Channing's new site -- there's some exceptional material on the site now.
~~~~~~~~~~~~
Dominique Besson has just updated his website, DominiqueBesson.com, with many new nice posters. As Euros are very strong now, Dominique will give free shipping until the end of May.

Please note that Dominique has created a new website devoted to Chagall's posters. All posters on this new website are original -- he doesn't deal in reproductions. If you have any interest in Chagall artwork, please visit his site: http://www.chagall-posters.com
~~~~~~~~~~~~~~
FOREIGN FILM POSTERS AS ART
Unshredded Nostalgia's Foreign Film Posters as Art exhibit is continuing through May 15. Jim Episale is inviting the community to learn more about foreign film posters as art forms at the free exhibition.

All visitors will also be able to browse selected items from those acclaimed showings, as well as Unshredded Nostalgia's inventory of over 250,000 rare, unique and unusual items in the store's recent expansion.Collectors, browsers and the general public are invited to view this highly entertaining and informative free exhibit located at Unshredded Nostalgia, 323 S. Main St. (Route 9) in Barnegat, NJ. For more info, visit their website HERE.
~~~~~~~~~~~~~~~~~~~~
THE FORCE WAS WITH US - MAY 5
We were very excited to receive an invitation to a special press screening of

Star Wars: Revenge of the Sith

this past Thursday. (Thank you Steve of LucasFilm). We have been Star Wars fans since we saw the first movie back in 1977 so you can imagine how thrilled we were to see this special screening. To read our thoughts on the film, visit Susies Corner

here

.
~~~~~~~~~~~~~
MPDB ARCHIVE STATS:
GENERIC STATS:

Over 6,000 items for sale in the LAMP Generic Sections.

~~~~~~~~~~~~~
SUSIE'S CORNER UPDATE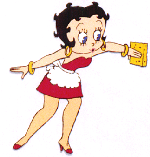 We are continuing to update our inventory. You can see the list by clicking on the blue button below.