the 2013 Edition
Movie Still Identification Book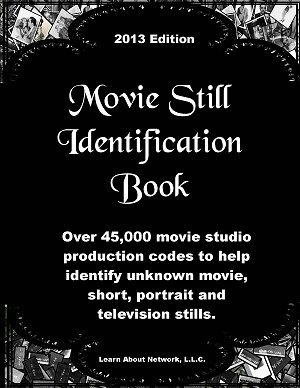 with over 45,000 codes
Besides the feature film coverage of all major studios, special attention in this edition covers series from our childhood like Three Stooges, Laurel & Hardy, Our Gang, Buster Keaton, Charley Chase, Mable Normand, Andy Clyde, Harry Langdon, Harold Lloyd, and Terrytoons. We believe that we have compiled the most comprehensive codes covering Mack Sennett, Hal Roach, Columbia, Pathe and Educational Film shorts ever assembled in one place.

This edition also delves into new territory such as TV series codes and 2nd & 3rd unit codes. We have even started breaking down the TV series with specific episode codes. It has become a continual process of digging, research, untangling and compiling. As soon as we release one edition, we immediately are gathering and compiling for the next.
Because of the large number of production code listings, we did not have room for any tutorials. We are releasing a separate reference book to cover the topic better, called "Production Code Basics - For Movie Stills Collectors". The new book is scheduled for release May 22, 2014 at Cinevent. THIS NEW BOOK IS INCLUDED FREE WITH YOUR MOVIE STILL IDENTIFICATION BOOK PURCHASE. For more information on the new reference book, it is now online in the bookstore.
it's only $60
plus $8 for U. S. shipping!!
For orders outside the U.S.
the new 2013 Movie Still Identification Book weighs 4 lb. 12 oz.
so unfortunately, the shipping is ridiculous
$115 including shipping outside the U.S. - sorry
We do have a membership program
as a cheaper alternative.

Well...... WHAT ARE YOU WAITING FOR??
ORDER YOURS NOW!
By PayPal:


Use pull down menu to change to shipping outside of the U.S.
By Check or Money Order -
INSIDE U.S. ONLY:
Make check or money order in the amount of $68.00 payable to

Ed Poole and send to:

Ed Poole
P. O. Box 3181
Harvey, LA 70059-3181
DON'T NEED A PHYSICAL COPY?
Want to have IMMEDIATE ACCESS?
NOTE: 2013 Movie Still Identification Book is NOW ONLINE and available in the Member Section.
We have a portal site for stills collectors at MovieStillID.com
BECOME A MEMBER - Get immediate access, save money AND have access to THOUSANDS of other research and records.
A ONE YEAR individual membership is ONLY $60
Corporate or library memberships are also available HERE