The need for nurses during the second World War motivated Congress to pass an act in 1943, known as the Bolton Act, for Congresswoman Frances Bolton of Ohio who sponsored the bill in the House, establishing the Cadet Nurse Corps of the Public Health Service.
Under the terms of this Act, Federal scholarships in nurse education were made available to qualified young women upon enrollment in schools of nursing whose curricula and nursing facilities met standards prescribed by the Service.
Miss Lucile Petry was chosen by Surgeon General Parran as chief of the newly established Division of Nurse Education, which was to administer this program.
During its 3 years of existence the Cadet Nurse Corps provided a great reservoir of trained nurses for the military and prevented the collapse of civilian nursing service on the home front.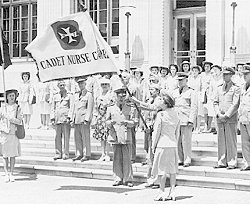 Presentation of the Cadet Nurse Corps flag to Nurse Director Lucile Petry by Surgeon General Thomas Parran (reading), at ceremonies in Washington, D.C., in June 1944.
Poster Index