The Women's Army Auxiliary Corps (WAAC) was created in May 1942. Top priority for assignment of WAACs was to serve at Aircraft Warning Service (AWS) stations.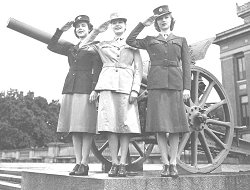 Following much controversy and dissent, the bill creating the Women's Army Auxiliary Corps (WAAC) was finally approved on 14th May 1942. It was to be a non-combatant service, enabling the release of able bodied men in the Army for combat. The Auxiliary part of the title referred to the fact that the WAAC was not part of the Army, merely authorised to serve with the Army.
Mrs. Oveta Culp Hobby was sworn in as Director of the WAAC on 16th May 1942, this rank being equivalent to Colonel in the US Army. The head of Pallas Athene (Goddess of Wisdom and Victory) was chosen for the Corps insignia.

In the spring of 1943, WAACs became the Women's Army Corps (WAC).
Some commanders were reluctant to accept women into their units, but by mid-1943 the demand for them far exceeded the numbers available.