When war came, the only U.S. organization that was ready to act was the Red Cross. The Red Cross had 59 years of practice dating before World War I, when it called itself "The Greatest Mother".
Here's a great poster issued during World War I that depicts the maternal spirit of the Red Cross workers: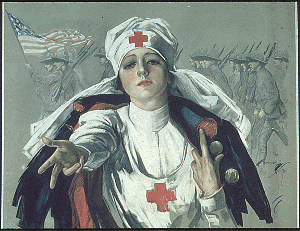 The day after Pearl Harbor 3,740 Red Cross chapters enlisted tens of thousands of volunteers to handle all the support services.
The only reward the 'Angels of Mercy' received besides the personal satisfaction was the coveted Red Cross pins and service ribbons.
Proudly worn on the uniform pockets, the ribbons had stripes of silver for every 500 hours of service, thin gold stripes of 1,000 hours and wide gold stripes for 5,000 hours.