Because the majority of the Canadian population is English-speaking and shares an open border with the US, the movie industry of the two countries have become intertwined. Most major studios also have a filming studio in Canada.
Because of the complexities of the structure of the studios, to understand Canadian movie paper, please see Poster Distribution in Canada (above).
Before the collapse of National Screen Service (NSS), material was sent to the 4 Distribution Centers. Each center would modify the poster according to the local censor boards. See Poster Distribution in Canada (above)

Quite often this was done by use of a snipe or a stamp, like

the one shown. The snipe was normally placed over the US ratings box. It is also quite common to find posters that were used in Canada to have the US ratings boxes blanked out or covered with a blank snipe
The major differences will come out of the Montreal Branch, where major changes were made primarily for the French posters.
Quite often older posters that the studio shipped to Canada will have a stamp which was required by most censor boards.
Newer material carry the sticker:

American or French movie posters that are printed and released in Canada do not have the Canadian sticker, but posters that are brought into the country do.
For the Quebec Distribution area, older posters quite often have a Censor Stamp: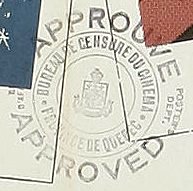 After the collapse of the NSS, there has been a slow rise in Canadian Distribution Companies. Currently the best way to tell the difference in the US and Canadian releases is to look at the Distributor logo on the bottom right of the poster credits for distributors such as Alliance. See Production & Distribution in Canada (above)
~~~~~~~~~~
LAMP Sponsors in Canada
Amazing 3rd Planet
For links to other LAMP dealers that handle Canadian material, as well as events and other related material, be sure to check the Canadian Dealer and Travel Map
~~~~~~~~~~
Here are the Canadian posters that we have in the
LAMP-MoviePosterDatabase so far.
~~~~~~~~~~