Roy Rogers was born in Cincinnati and never left the state of Ohio until he was 18 years old. He followed his father to California where the family worked as migratory fruit pickers.
In the early 1930s, Rogers formed the singing group "The Pioneer Trio" with other members Tim Spencer and Bob Nolan, which later became "The Sons of the Pioneers", who became very popular on radio.
In 1935, Republic Pictures signed him to a seven-year contract at $75 per week. The studio did not believe an Ohio native with the name of Leonard Slye would sell, so they tried out a few names, the first one being 'Dick Weston'.
He made his film debut in a Gene Autry film,"Tumbling Tumbleweeds" (1935) as an uncredited extra. Rogers continued playing bit roles.

When Gene Autry walked off the lot in a contract dispute in 1938, it was Rogers' chance. Now billed as 'Roy Rogers', he had his first leading role in "Under Western Stars", as a singing cowpoke turned Washington Congressman.
Rogers was an instant hit, and was then usually teamed with Gabby Hayes as his sidekick. Virtually all of his films were in the singing cowboy mode, except for "Dark Command" (1940), in which he played the supporting part of Claire Trevor's trigger-happy brother who is trying to settle the question of whether or not Kansas should be slave state prior to the Civil War.
In 1944, he appeared in "The Cowboy and the Senorita". Playing a supporting role was Dale Evans, a band and radio singer with only a few films under her belt.
In 1947, Rogers and Evans were married and began to make more than 20 films together. But the rise of TV had killed the Poverty Row studios which had made Rogers a star, and he joined the gallop of other lucky Western matinee stars into the new medium.
From 1951-57, he starred with Evans in "The Roy Rogers Show" (NBC), riding his horse Trigger while Evans rode her Buttermilk.
Each week, Rogers would save the West from some evildoers, and Evans would sing "Happy Trails to You", the song she wrote for the show. Rogers character never really kissed a girl and he never misrepresented the Native American.
While it was never publicized--although Rogers never hid it--Rogers' mother was 1/2 Choctaw. America's 'King of the Cowboys' was one of those "mixed breeds" that were often stereotyped in Hollywood films. After original production of "The Roy Rogers Show" ceased in 1957, the show ran on Saturday mornings and afternoons for many years, thus generating new legions of fans.
There were all varieties of Roy Rogers merchandise on the market for the budding little cowboys.. I know I had my Roy Rogers pistols and spent many hours with my favorite comics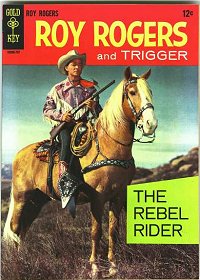 Rogers and Evans hosted "The Chevy Show," an NBC variety series a few times in the late 50s, then, in 1962, ABC gave them their own short-lived variety series, "The Roy Rogers and Dale Evans Show".
Rogers began spending more time on his ranch in Chatsworth, Calfornia, but wanted to retire and slow down a bit. He and Dale sold the ranch and moved to the High Desert of California, making their home in Apple Valley, where the air was clean, and the sunsets were marvelous.
He opened the first Roy Rogers Museum in Apple Valley, as well as renting out the Apple Valley Inn right across the highway, and would often greet the many fans who came to see the exhibits. And, as often reported, his horse Trigger, who went to his last round-up in 1965, was mounted and displayed inside the museum for all to admire.
Beginning in 1962, he toured with a stage show that played fairs and rodeos, as well as the Grand Ole Opry in Nashville.
Rogers made a guest appearance on "The Beverly Hillbillies" in 1964, and appeared occasionally on variety shows and on "The Tonight Show Starring Johnny Carson".
Rogers and Evans guest hosted several installments of "The Nashville Palace" (NBC, 1981-82), recalled the by-gone days on the syndicated retrospective "The Singing Cowboys Ride Again" (1982), and even played a drunk in a small role in "The Gambler III: The Adventure Continues" (CBS, 1983), alongside new western singing star Kenny Rogers. His last feature film role was in "Mackintosh & T.J." (1975), about a cantancerous old cowboy and a rebellious teenage boy.
In 1990, Dale Evans hosted a talk show for Christian cable network TNN and Rogers often joined in her ministry on TV, even though a heart bypass in 1991 slow him down a little. He continued to greet the many visitors at his museum, located in Victorville, CA., until his death on July 6, 1998.
In 2003, the Rogers family decided to move the museum to Branson, MO to give the folks in the midwest a chance to see the museum that they could not visit while it was in California.