Suncoast Movie Company is a division of the Musicland Group. They have a chain of retail outlets, normally found in major shopping malls, that sell a great selection of movie merchandising material.

Suncoast stocks a variety of posters from various commercial printers, but have also stocked a few theater size posters that have been very controversial to movie poster collectors. These posters are 27x40 and are marked as Original Movie Posters as shown: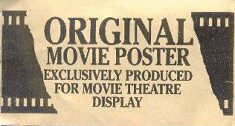 This label has caused a lot of questions as to whether they are actual movie art (theatre one-sheets), or are they some of the 27"x40" theater size reprints that are becoming more and more available on the market.
There are a few points to be considered:
When the studios release posters to the theaters that measure 27"x41" and Suncoast stocks that title, the Suncoast version of the poster still only measures 27"x40".

Suncoast posters are always single sided.

When Disney animated posters are/were released, the posters to the theaters had/have Disney numbers on the back. The Suncoast verions of the posters do not.

When Disney theater posters are released, there is a Disney tag on the back corner. There is no such tag on the Suncoast version of the posters.
To clear up the discrepancies, we called the regional offices and were told that Suncoast receives a special printing of 5000 of each title that they stock.

This clearly moves Suncoast posters from the category of original theater art to the category of limited editions because of the run of 5000. As far as collectors are concerned, this is a small step above the theater size reprints but below a normal limited edition because most limited editions are either special artwork or have individual numbers or special collectible tags.
!! UPDATE !!
Suncoast has changed their label...
They left the 'Original Movie Poster' in large print but replaced the word 'exclusively' with the word 'artwork'. In other words, even though it gives the appearance of an original movie poster, it's really saying 'original movie poster ARTWORK'