Metro Pictures Corporation was started in 1915 by Richard A. Rowland and Louis B. Mayer, who owned a group of theaters in Massachusetts. The company started out distributing films made by Solax Studios which was the first woman owned studio in the US and very successful.
The offices for Metro were located in New York, but soon they moved into production utilizing studios in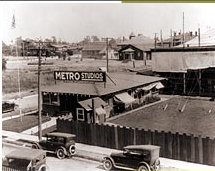 New York and New Jersey. Metro was very successful and began expanding rapidly. They moved out west to establish a studio in California at which time Mayer left to form his own company in 1918 called Louis B. Mayer Pictures. Shown on the right is a photo of Metro Studios in 1918.
Rowland struggled but some of the major assets of Metro was some good directors and actors. Among the staff was director Rex Ingram and newly acquired actor Rudolph Valentino.
In 1920, Marcus Loew was looking to acquire a steady flow of good films for his theater chain. The acquisition of Metro was looked at as their solution.
However without the managerial skills of Mayer on board, numerous management problems occurred. As an example, after 4 films, Valentino asked for $100 a week raise. Metro executive refused giving Famous Players-Lasky the opportunity to steal him. His next film, the Sheik was a run-away hit establishing Valentino in the industry.
In October of 1921, Rowland left Metro and the following year became the General Manager for First National.
The influx of films for the Loew's theaters proved a boost but Loew was still not satisfied with the quality, quanity or management.
See MGM Article
Here is a list of films in our archive released by Metro Pictures