New Zealand posters are quite different than for other countries.
There are a few things printed just for New Zealand, bit the vast majority of the posters used in New Zealand is from other countries and stamped with their censor stamp.
They primarily use Australian daybills, US one sheets and US 3 sheets, but they do occasionally use UK material and even Japanese or Hong Kong.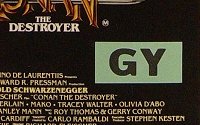 Posters used in New Zealand carry their censor stamp.
Notice: here's a sample of the New Zealand ratings code (the large GY) using a snipe. You can see the Australian ratings code which is the M in the circle beside the title.
Because of the strenuous censorship laws of Australia, there are some daybills for films that were banned in Australia but were shown in New Zealand. The most noteworthy are some of the early Universal and other classic horrors. See the New Zealand Censorship
~~~~~~~~~~
Here are the New Zealand posters that we have in the
archive so far.
~~~~~~~~~~
Additional information was provided by
Phil Edwards Cinema Arts Pty Ltd
~~~~~~~~~~