Sue and I began collecting movie posters in the mid 1970s when we were dating. This grew into a love of movie posters that evolved from collecting to buying collections. We would search through the posters for find something from Louisiana for our personal collection and try to sell the rest to recoup our money to buy more.
In 1987, we helped our friend Don Lee Keith find material for the "Starring Louisiana" exhibit at the State Museum. This introduced us to research, and totally changed our direction in collecting when we realized that there was almost NO structure or reference material on markings, sizing, verifying, or any other aspect of collecting movie posters. This evolved into our retail store in Lakeside Shopping Center in the mid '90s and the release of the first reference book on the hobby, Collecting Movie Posters published by MacFarland Publishers in 1997.
In 2000, we closed our retail store and went into international movie poster research full time writing reference books and creating our websites. The center of our research was LearnAboutMoviePosters.com which, with it's 27 associated URL's grew to over 200,000 pages of research online for all levels of collectors, dealers, auction houses and educational institutes. This research also contributed to our 24 reference books that were published.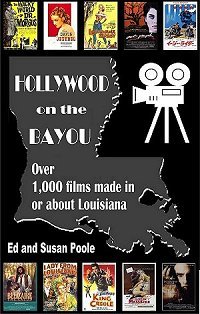 On the personal side of our Louisiana collecting - In 2010, while doing some research on a 1911 Louisiana poster for our personal collection, we realized that Louisiana film history was basically being LOST with no one recording or preserving what had been done here. So, we went through our files and published Hollywood On The Bayou in 2011 to try to establish a base of Louisiana film history information. We then created the website HollywoodOnTheBayou.com to provide more information to the public (currently our HoTB website has information on almost 3000 Louisiana films available by Titles, Year or by Parish)
We then put together a one hour presentation on Louisiana film history and began presenting our collection to help preserve Louisiana's rich film history before it was LOST.
Louisiana Film Intro - this is our 5 minute promo on Louisiana Film History when we first released Hollywood on the Bayou in 2011.
That same year we went to the Louisiana Book Festival in Baton Rouge and were interviewed. Here is that interview:
interview
Nov. 5, 2011 - we went to the New Orleans Book Festival
photos
Lake Charles Film Fest - Oct. 2012
We were given a long closed hallway to present a West Louisiana exhibit and interviewed by the local TV station:
photos
~~~~~~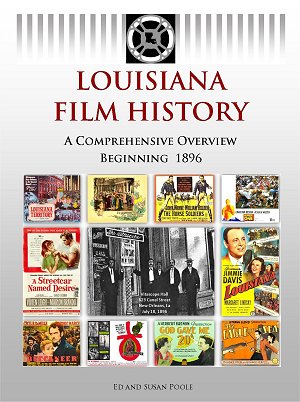 In 2012 we released the book - Louisiana Film History which expanded on our HotB book and added background stories.
We did a release presentation at the Garden District Book Club in New Orleans on Nov. 12, 2012
video
In 2012, we were giving a presentation in Thibodaux to the Lafourche Parish Historical Society and met Clifton Theriot who was archivist at Nichols State University. He invited us to put on a full exhibit on Louisiana film history.
2013
Nicholls State University - We created the first full exhibit of Louisiana film history from 1896 through the decades displaying over 100 original posters in 26 floor to ceiling cases plus 6 large table displays, and old Louisiana film trailers.

Here are 2 news clips about our exhibit by Nicholls State University

http://www.youtube.com/watch?v=dkuKq6m5dyg

http://www.youtube.com/watch?v=Hs-YfTUH2gc

Houma Today - Feb 5, 2013 A -

Houma Today - Feb 5, 2013 B -

Houma Today - Feb 5, 2013 C -
~~~~~~
Lake Charles Film Fest -

In Oct. 2013, we returned to present a larger exhibit and were given the school auditorium with tables to create an exhibit. We created an exhibit for the Lake Charles Film Festival consisting of 14 - 3'x4' storyboards covering Louisiana Film History. We placed original material between each storyboard.

video
~~~~~~
State Library of Louisiana - Baton Rouge Film History Exhibit
Opened Oct. 23, 2013 for 6 months

We created a small exhibit for the Louisiana section of the State Library of Louisiana (5th floor) for Baton Rouge and the surrounding parishes which consisted of 3 glass tables. Two tables covered the major films made in Baton Rouge beginning in 1917 through 2000 and the third table covered Plantation films from the Baton Rouge surrounding area.

photos

~~~~~~

Pontchartrain Film Fest

Slidell - Slidell Little Theater - Nov. 8-10, 2013

We presented a medium size exhibit for the theater waiting room that specialized in films made on the North Shore and classics. We also gave a 1 hour lecture with trailers on Saturday (9th) at 5:45 on Louisiana Film History.

Advocate 11-7-2013 -

photos

~~~~~~

We released the book - Heroine to Hussy: Women in Louisiana films

Jefferson Parish Libraries - we gave a presentation and created a travelling exhibit consisting of reproductions of classic Louisiana movie posters. We a squabble broke out over a couple of our extra reproductions for the exhibit, we created a line of full color reproductions to help support our presentations, which now has expanded to 90 different posters.

Plaquemine Post South Article - July 20, 2014

Donaldson Chief Article - Aug. 6, 2014
Ascension Parish Library Presentation - Gonzales - August 19, 2014

Sept. 2014

We did a full day training class for Historic New Orleans Collection on movie poster identification and documentation.

We also opened our Louisiana website - HollywoodOnTheBayou

~~~~~~~~~

We released the book - Louisiana Plantations: Real to Reel

2015

East Regional Library Presentation - Metairie - 7-21-2015

Oct 2015

We did a full day training class for LSU library archival dept. on movie poster identification and documentation.

Celtic Studios - Baton Rouge - We placed an exhibit in the Oak Tree Building for a year from 2015-2016.

We had 2 large pieces framing the entryway:

And then around all the walls and a photo wall.

We released the book -America's First Movie Theater: Louisiana's Vitascope Hall

We then expanded our HollywoodOnTheBayou website to include more title information and films divided by parishes and year.

2017-2018

We worked with Louisiana Dept. of Tourism by supplying the foundation and information for the creation of the Louisiana Film Trail on the State website:

https://www.louisianatravel.com/film

2019

Covington - St. Tammany Art House Exhibit in conjunction with Pontchartrain Film Fest - June 22, 2019

We presented a North Shore exhibit for films created there. Here is a walkthrough:

Vitascope Hall

We presented a proposal in 1996 to New Orleans City Hall to place a marker on the first seated indoor movie theater in the United States, which happened to be at 623 Canal St. New Orleans, on July 26, 1896, for the 100 year anniversary.

After 23 years of trying to get this accomplished, FINALLY, the marker is scheduled to be place on Oct. 14th for the kickoff of the New Orleans Film Fest.

photos
All books and material shown in this article are available in our HollywoodOnTheBayou.com bookstore.
Follow us on facebook for Hollywood on the Bayou or here for Learn About Movie Posters and LinkedIn

ed (and Susan)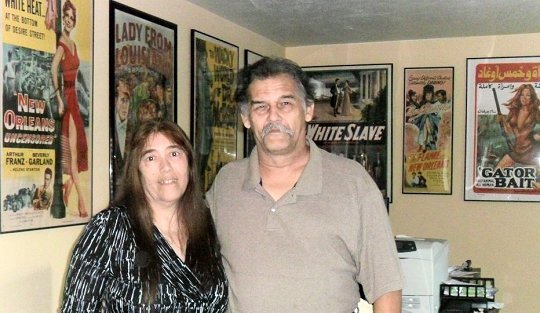 Help us save the past for the future.