- This item is currently for sale by dealers
Details
Countries:
Germany
Additional Info:
measures 23x33. NOTICE: There is a lot of confusion on this poster, mainly from the end of WWII and the different agencies that regulated the movie industry following the war. FIRST.. the poster wasn't issued until at least 1952.. (notice the artist signature) The MPEA stopped stamping in 1950. Then there was no stamp until 1953 when there was an FSK stamp shown below from 1953-1958.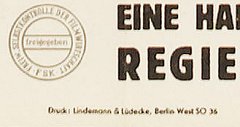 Unfortunately I haven't been able to confirm if the original release was in '52 WITHOUT the FSK stamp or in '53 WITH the FSK stamp and the one without the stamp is a later reissue.
Artist Information
There are no artists listed for this poster.
Markings
No marking information available.
These Dealers have this original poster for sale
There are currently no dealers with the poster for sale.
These Dealers have this reprint poster for sale