- This item is currently for sale by dealers
Details
Countries:
United States
Additional Info:
measures 14x36 on card stock and issued rolled or folded. NOTICE: An oddity.... the NSS number on the insert is written backwards?? It's not that way on the other sizes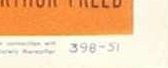 Artist Information
There are no artists listed for this poster.
Markings
These Dealers have this original poster for sale
These Dealers have this reprint poster for sale
There are currently no dealers with the poster for sale.