In 1939, Ben Judell (from Progressive Pictures) formed Producers Picture Corporation and Producers Distributing. Judell bought the Grand National studio when it went bankrupt.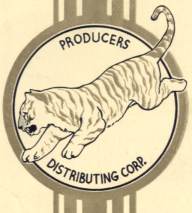 Judell hired Sigmund Neufeld to head the production and his brother Sam Neufeld as director with the intent to film B-westerns.
By 1940, after only 7 films, Judell found himself deeply in debt and filed bankrucy.
Sigmund Neufeld took over and changed the name to Producers Releasing Corporation. Sam did all the directing but to make it look like PRC was larger, Sam sometimes used the pseudonyms Sherman Scott and Peter Stewart.
Neufeld still struggled so he sold the studio to American Pathe who put Henry Briggs as President. Pathe also sent in Leon Fromkess and George Batcheller as assistants but there were immediate problems with the structure that Pathe had put in place.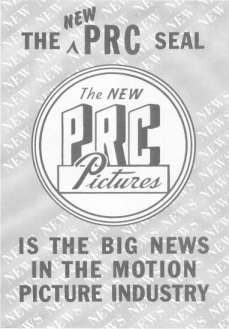 Briggs and Fromkess soon resigned due to management disputes with Pathe leaving Batcheller at the helm. PRC primarily produced low budget westerns with stars like Buster Crabbe, Bob Steele. PRC flourished during the war years but right after the war, the public taste changed and the European market closed to American films so PRC was quickly in trouble again.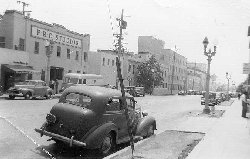 PRC Studio offices in 1942 on Santa Monica Blvd.
In 1947, Producers was acquired by J. Arthur Rank's Eagle Lion Distributors in the UK to form their US production and distribution arm called Eagle-Lion Films.
PRC HAS BEEN REVIVED!!
C. S. Lamb, a movie producer, has bought up the logos and rights to Monogram, PRC, AIP and several other b-movie studios and has started reviving them. They plan to re-release some of the old GEMS as well as produce new b-movies... For more information you can go their website. We applaud Mr. Lamb and hope he succeeds.